Wednesday, February 18, 2009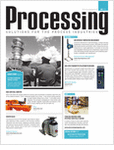 Tubular Exchanger Manufacturers Association (
TEMA
) has developed a series of fouling factor for Shell and Tube (S&T). These fouling factor are generally higher than Plate Heat Exchanger (PHE), why not use S&T fouling factors to size PHE ?
Isn't this approach conservative and guarantee the performance ?
Reason being...
Oversized Plate Heat Exchanger (PHE) required

extra CAPEX

and extra Space for oversized PHE

Tubulence minimise fouling tendencies

in correctly sized PHE. Oversized PHE results low actual velocity and increase potential fouling and inefficient heat transfer

HTRI studies showed PHE fouling

significant lower than Shell & Tube Heat Exchanger (S&T)...

factor of 6.7



GUIDELINE :
Do not oversized PHE more than 25% against required area
.
Related Post
Labels: Fouling Factor, Heat Exchanger, Plate Heat Exchanger
0 Comments: