Sunday, July 27, 2008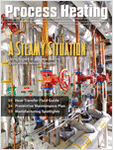 Heat exchanger fouling has been a headache problem which can not be avoided...however many of us may not aware of it mechanism, prevention and treatment....
Heat Exchanger Fouling Causes Problems In Gas and Liquid System
The article presented six (6) distinctive different mechanism causing
Heat Exchangers
Fouling e.g. Crystallization, Sedimentation, Chemical reaction & Polymerization, coking, Biological growth and corrosion. This article will only focus on particulate fouling. It discusses particulate fouling mechanisms, prevention and treatment. This article also presented Prediction Model for Particulate Fouling by
Kern & Seaton
.
by Reza Hashemi and Robert L. Brown, Jr.


Related Topics

Labels: Fouling Factor, Shell and Tube Heat Exchanger
0 Comments: