Thursday, June 12, 2008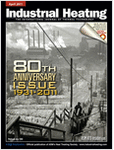 Fouling in heat exchanger is one of most challenging operation problem. It is the buildup of sediments and debris on the surface area of a heat exchanger and reduce heat transfer.
Fouling will reduce heat transfer, impede fluid flow and increase the pressure drop across the heat exchanger.
Plate heat exchanger as compare to Shell & Tube Heat Exchanger showed lower fouling factor. Have you ever thought of the reasoning behind ?
Related Topics
Labels: Fouling Factor, Heat Exchanger
0 Comments: